Posted on March 9th, 2021 in Nursing

As the healthcare community focuses on employing more baccalaureate-prepared nurses to enhance patient outcomes, the Warner Pacific University RN to BSN program delivers a high-quality, affordable option for nursing professionals who want to achieve their career advancement goals while balancing their dedication to work, family, and life commitments.
The RN to BSN program provides upper division coursework leading to the Bachelor of Science in Nursing degree for students who already hold RN licensure and an Associate degree from an accredited institution. The program prepares nurses for positions of leadership and provides education and clinical experiences in person-centered care beyond a patient's immediate physical needs. Care management, transitions of care, organizational leadership and communication, culturally competent care, and nursing at the levels of family, community, and population are considered through a lens of Christ-centered social justice.
Our program is:
Designed with working nurses in mind
Appreciated for flexible completion from being fully online
Taught by local Oregon Nurses
Organized to expand professional networks
Focused on the integration of faith and equity
Valued for accessible and relational faculty
Online program coursework focuses on: understanding systems; improving communication and collaboration skills; discerning between leading and following; making data-driven decisions; thinking critically about managing care; and working with patients, families, communities, and vulnerable populations from diverse ethnic, cultural, religious, and socio-economic backgrounds.
The RN to BSN program is ideal for practicing nurses who want to advance their careers and qualify for the healthcare industry's most in-demand jobs. Area employers are showing a preference in their hiring practices with hospitals and other healthcare settings requiring RNs to have a baccalaureate degree in nursing.  Earning a BSN Degree opens doors to a wide variety of professional options, including roles with responsibilities that equate to higher satisfaction, such as:
Clinical Instructor
Hospice Nurse
Critical Care Nurse
Flight Nurse
Informatics Nurse
Occupational Health Nurse
Oncology Nurse
Public Health Nurse
Military and VA Appointments
A BSN Degree is also the first step to advanced practice nursing careers such as nurse practitioner, clinical nurse specialist, certified registered nurse anesthetist, or certified nurse midwife.
Warner Pacific Nursing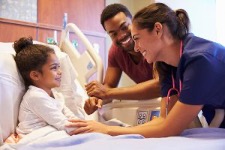 Recognized as Oregon's most diverse private university, 55% of WPU students identify as persons of color, and 36% of students are the first in their family to attend college. WPU has been identified as a Hispanic-Serving Institution (HSI) by the U.S. Department of Education–the first four-year college or university in Oregon to receive this designation. Through personalized service, relational connections, and holistic education, WPU empowers and equips diverse leaders in all fields to use their degree to serve their communities.
At the helm of the WPU Nursing Program is Dean of Nursing, Linda Campbell, Ph.D., RN, CNS, CNE. Dr. Campbell served the Loretto Heights School of Nursing (LHSON) in the Rueckert-Hartman College for Health Professions at Regis University in Denver, Colorado, for 13 years. Prior to coming to Warner Pacific in 2017, she was the Director of Accelerated Nursing and Clinical Learning Unit at LHSON.  Dr. Campbell's engagement in scholarship and service illustrates her commitment to building excellent programs for students and the communities they will ultimately serve.
"Warner Pacific's new RN to BSN program is a timely and distinctive opportunity for registered nurses to earn their BSN degree. Our team of experienced faculty is devoted to your acquisition of BSN hallmarks for spectral thinking, safe care management for all recipients, and leadership of self and others. Our curriculum includes required content, value-added courses, 135 clinical hours in community health nursing, and a leadership/management capstone course." –Dr. Linda Campbell, Dean
The first RN to BSN degree cohort starts in April and is now accepting applications. WPU also offers a traditional pre-licensure 4-year BSN degree program.
---